USA Fuel Service is a Wisconsin based, family owned business with distributors and dealers in Florida, Wisconsin, Alabama, Ohio, Louisiana, Texas, Virginia, Maryland, Rhode Island, Pennsylvania, & California. We are exclusively in the tank cleaning, fuel polishing and fuel additive business. In 2007 we developed a new state-of-the-art process for cleaning fuel tanks, polishing fuels and stabilizing stored fuels. The knowledge resulted from more than 40-years of racing experience including building top fuel gasoline and diesel racing engines with well over 1,000 horsepower.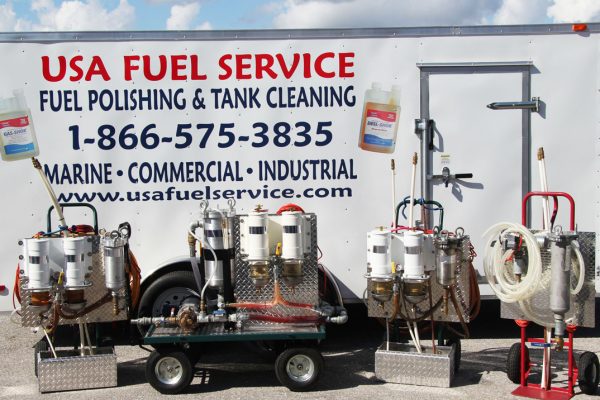 We also blended our own racing fuels and used filters that produced super clean fuels.  We not only learned how to blend, stabilize and store many different kinds of fuels but also how to cope with the incompatibility problems with certain metals, resins, plastics and gasket materials.
Today we apply that real world knowledge in our tank cleaning/fuel polishing business to provide state-of-the-art service and fuel additives. We even design and build our own mobile fuel polishing machines in-house. We also developed a proprietary blend of proven safe petroleum based chemicals to clean fuel tanks. (They are not alcohol or acid based)  Our exclusive state-of-the-art process is absolutely the most effective method in the industry. It minimizes fuel lose and down time and cleans the fuel and the tank without evacuation. Our success rate is over 99% while others average 50-70%.
We are also the first company to develop an affiliate program for those interested in establishing their own tank cleaning/fuel polishing company.  We offer a complete program including equipment, training, chemicals and ongoing support.   
IF YOU HAVE A FUEL PROBLEM WE CAN SOLVE IT "GUARANTEED"